psychological benefits of carrying a pregnancy to term
Faced with an abundance of studies on the psychological effects of loss in women who choose to terminate their pregnancies due to fetal anomalies, scientists at Duke University took a different approach. By examining depression, grief, and post-traumatic stress in women who continued their pregnancy, they were able to compare the psychological outcomes of both options. Their findings showed that women who carried to term generally experienced less psychiatric distress, largely due in part to the memory-making and time to process that carrying a pregnancy allows.
---
CARRYING A PREGNANCY TO TERM PROVIDES TIME TO COPE & MAKE MEMORIES
ACCORDING TO THE DUKE STUDY, THE PSYCHOLOGICAL BENEFITS OF CARRYING A PREGNANCY TO TERM CAN BE ATTRIBUTED TO SEVERAL FACTORS, INCLUDING:
"Women who continue typically have several months between the time of diagnosis and the end of the pregnancy. This time may allow women to grieve and eventually reach acceptance with the diagnosis and impending loss prior to delivery. In contrast, women who terminate often do so shortly after the diagnosis with only hours or days to prepare for the loss."
— Cope, Garret, et al.
"Continuing the pregnancy also allows more opportunities to find meaning and for memory making, such as opportunities to hold and care for the baby, take photographs, create other keepsakes, and perhaps participate in research, tissue, or organ donation, all of which can contribute positively to the grieving process."
— Cope, Garret, et al.
"Certain aspects of religiosity, specifically attending church or other religious meetings, may contribute to reduced grief following pregnancy loss."
— Cope, Garret, et al.
Types of Deliveries and Their Outcomes
C-SECTION
89% OF BABIES DELIVERED VIA C-SECTION WERE LIVE-BORN
VAGINAL
49% OF BABIES DELIVERED VAGINALLY WERE LIVE-BORN.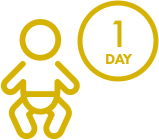 LIVE-BORN BABIES
THE VAST MAJORITY OF LIVE-BORN BABIES PASSED AWAY WITHIN 1 DAY.
LIVE-BORN VS. STILLBORN
THERE WERE NO SIGNIFICANT DIFFERENCES IN PSYCOLOGICAL OUTCOMES OF THOSE WHO HAD A STILLBORN OR LIVE-BORN BABY.

IN THE CASE OF TWINS
THERE WERE NO SIGNIFICANT DIFFERENCES BETWEEN PARTICIPANTS WHO HAD A SURVIVING HEALTHY TWIN AND THOSE WHO DID NOT.
Pregnancy Continuation as an Option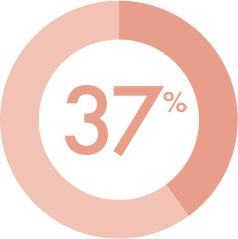 THE PERCENTAGE OF TIME WHEN PREGNANCY CONTINUATION IS DISCUSSED AS AN OPTION BY GENETIC COUNSELORS. BY CONTRAST, MOST DO MENTION TERMINATION AS AN OPTION.
"Following a lethal fetal diagnosis, the risks and benefits, including psychological effects, of termination and continuation of pregnancy should be discussed in detail with an effort to be as nondirective as possible."
— Cope, Garret, et al.